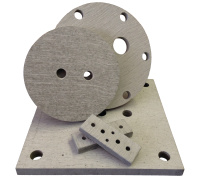 Electrical Insulation
Transite is a high density board used in a wide variety of applications that require electrical insulation, high strength, and thermal stability.
---
Specifications
Thermal Strength
Max. Oper. Temp: 450-600°F
Typical Applications
Bayonet top plates
Plug Heater top plates
Terminal blocks
Busbar supports
Feed thru insulators
Gaskets, Collars, Bushings
Spacers
Available Sizes
1/4″ to 3″ Thick
Sheets up to 4′ x 8′
---
Transite and Transite HT are registered trademarks of BNZ Materials, Inc.